Ng Yau Pang, Tom (SS1E), Hong Kong's brightest baseball player
Ng Yau Pang, Tom (SS1E) is interviewed by Young Post under the column of "Athlete of the week" on 24
th
April, 2012.
Tom, as a Baseball player, plays centre field for Hong Kong's youth and senior teams. He was part of the senior team that competed at the 17
th
Intercontinental Cup 2010 in Taiwan. He has been with the Hong Kong team since 2010. His talent is recognized and Mr Tsin Kin Chung, his coach, has seen a big change in his understanding of the sport since he joined Aberdeen 3 years ago.
Tom is now fighting to make the team to join the 10th Asian Cup for seniors which will be held in Thailand in August. He also hopes to form a School baseball team in the coming school days.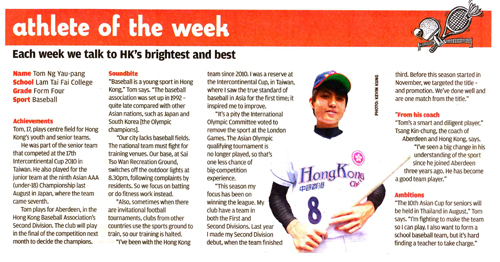 (Source: SCMP 24
th
April, 2012)