Youth Olympian of LTFC - HK's Brightest & the Best in the Sport of Fencing (Foil) - S5 Nicholas Edward Choi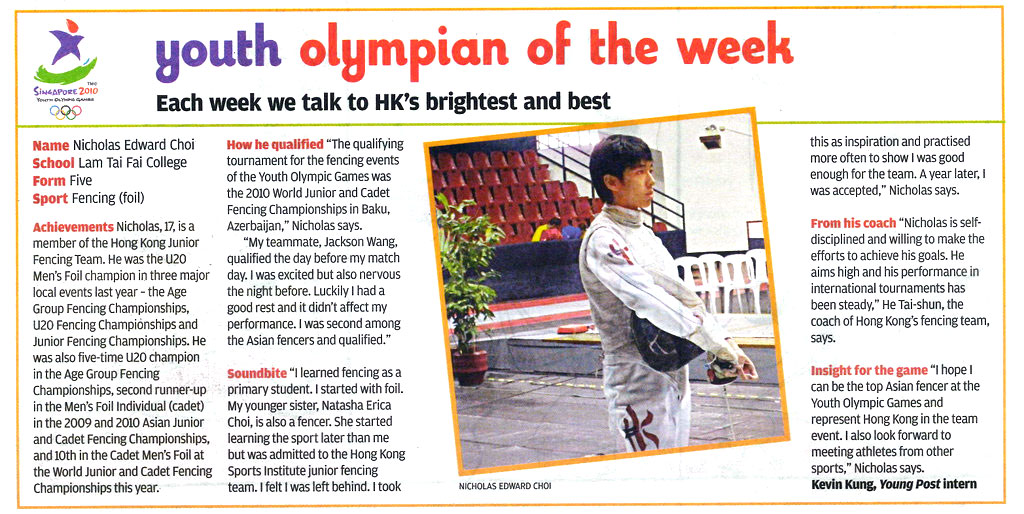 Cherishing the dream of being the top Asian Fencer at the Youth Olympian Games, Nicholas Chui 崔浩然 will represent HK in the team event after achieving very outstanding performance in the 2010 World Junior and cadet Fencing Championships in Baku, Azerbaijan recently (this was a qualifying tournament for the fencing events of the Youth Olympic Games).
Nicholas's achievement has been most remarkable. At the age of 17, he is a member of the Hong Kong Junior Fencing Team. He was U20 Men's Foil Champion in 3 major local events last year, namely the Age Group Fencing Championships, U20 Fencing Championships and Junior Fencing Championships. In five consecutive years, he has been U20 Champion in the Age group Fencing Championships, second runner-up in the Men's Foil Individual (cadet) in the 2009 and 2010 Asian Junior and Cadet Fencing Championships. His achievement in international competitions is equally impressed. He ranked 10th place in the Cadet Men's Foil at the World Junior and Cadet Fencing Championships this year.
Well-done, Nicolas! We take pride in what our student has achieved. We sincerely hope the budding athletes of Lam Tai Fai College will continue to strive for further excellence and more brilliant results in the days ahead.