LTFC Fencing Team emerged as the Champion of the Champions
林大輝中學 劍指學界盟主
Ever since the establishment of Lam Tai Fai College in 2004, sports education has been one of its major concerns. Fencing, as one of the 8 focus sports being promoted, has received high acclaim and scaled new heights. In a short period of 5 years, LTFC Fencing Team emerged as the Champion of the Champions. What has been achieved is not only the nurturing of promising fencers but also in the launch of LTFC Fencing Flagship.
News Report at Oriental Daily on April 23, 2010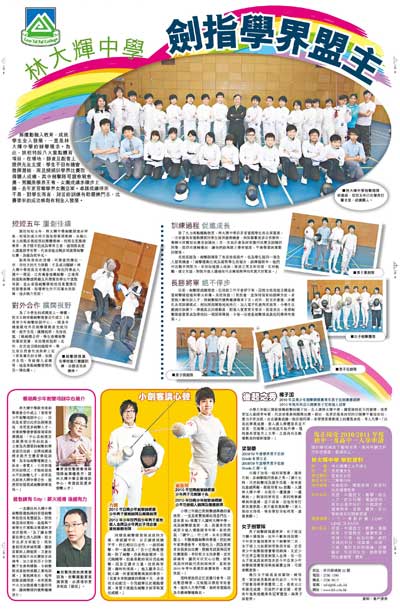 As the cream of the cream, LTFC Fencing Team has been remarkable.
The School Fencing Team has achieved their best by topping the Boys』 Team in the Inter-school Fencing Competition 2009-2010, while the Girls』 Team received the honour of being the 1st Runner-up. Throughout the past 5 years, LTFC Fencing Team has shown their ever-growing capability to strike for excellence and to build strong teamwork among the members.
Fencing Youth Centre at LTFC --- Seedbed of Promising Fencers
Collaborating with the Hong Kong Fencing Association and establishing the Youth Training Centre, the promotion of fencing has been brought to the next level by allowing our fencers to receive training with more budding fencers of Hong Kong. Apart from improving the facilities and raising the training standard, LTFC endeavours to provide the best possible learning and training support to our athletes, such as tutorial classes and special arrangement for assessment, so that they can strike a better balance between training and academic requirements.
The School hopes that the Fencing sport will form part of the LTFC strong tradition and that by promoting sportsmanship, every student can benefit from the conducive learning environment with everyone gives a full play to their talents. Memorable days for LTFC fencers, shining with anticipation, went up to receive the Trophies. How versatile our LTFC fencers are, an absolute testimony to the all-round education they receive!