To prepare our students effectively for meeting the demands of our rapidly developing knowledge-based society and the challenges of the launch of 334 new academic structure, a New Learning and Activity Complex has been built.
School Extension Project for the building of a New Annexe
(Oriental Daily, 27th April 2010)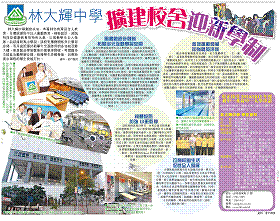 An Innovative Library Resource Centre 圖書館設計創新
Unleashing a Diversified and Interactive Learning Areas 拓展多元互動學習空間
The NSS curriculum encourages students to learn independently with the use of multi-media & diverse platform. The current library will be relocated to the new annexe, with an increase of space from 2,000 ft to 6,000 ft, providing total interactive learning zones and multi-media centres.
Popularization of Sports Development 普及運動發展
Exerting Sports Elite to the Fullest 加強精英培訓
In response to the belief of 「One Life, One Sport」 in LTFC, the newly built multi-purpose stadium, fitness centre and the 5-laned indoor swimming pool will facilitate both the training for elite athletes and the popularization of sports development through PE class routine. The new stadium is equipped with an auditorium in which competition of a larger scale can be held.
Advanced Fashion & Design, Arts & Aesthetic Facilities 視藝設施
Strengthening Small Class Teaching 加強小班教學
To cope with the growing number of students choosing Creative Fashion Design (Technology & Living) and Visual Arts as elective subjects, the extension of the Fashion Centre makes room for small class teaching. The new Art Room and Band Room will also offer additional facilities for arts education in LTFC.
Widen the Spectrum of School Life in LTFC拉闊校園生活
Fostering Whole-person Development 促進全人發展
The initiative of the SEP is to offer more learning as well as recreational area for co-curricular activities, aiming to nourish students' whole-person growth. Apart from the teaching facilities, the new student dining hall is equipped with a kitchen that practises on-site cooking and provides freshly cooked food.