Professor Wong Kam Fai
Article by Our School Manager Professor Wong Kam Fai on the Learning & Teaching of NSS Liberal Studies on 29th April, 2010
Professor Mr. Wong Kam Fai (黃錦輝教授), member of the Incorporated Management Committee of Lam Tai Fai College, expresses his view on the learning and teaching of Liberal Studies under the NSS curriculum in his article "新高中通識科 學思並行 加強指引" on 29th April, 2010. [Prof. Wong is the Associate Dean (External Affairs) of Faculty of Engineering, The Chinese University of Hong Kong, and the President of Hong Kong Information Technology Joint Council]
---
Our school manager, Professor Wong Kam Fai was featured by Hong Kong Economic Times to give his views on IT education in Hong Kong schools. He advocated for the establishment of e-community (e-社會) and e-school campus (e-校園) with the promotion of I.T. Prefect project (資訊科技班長).

20-3-2009, Hong Kong Economic Times - a newspaper report of Professor Wong Kam Fai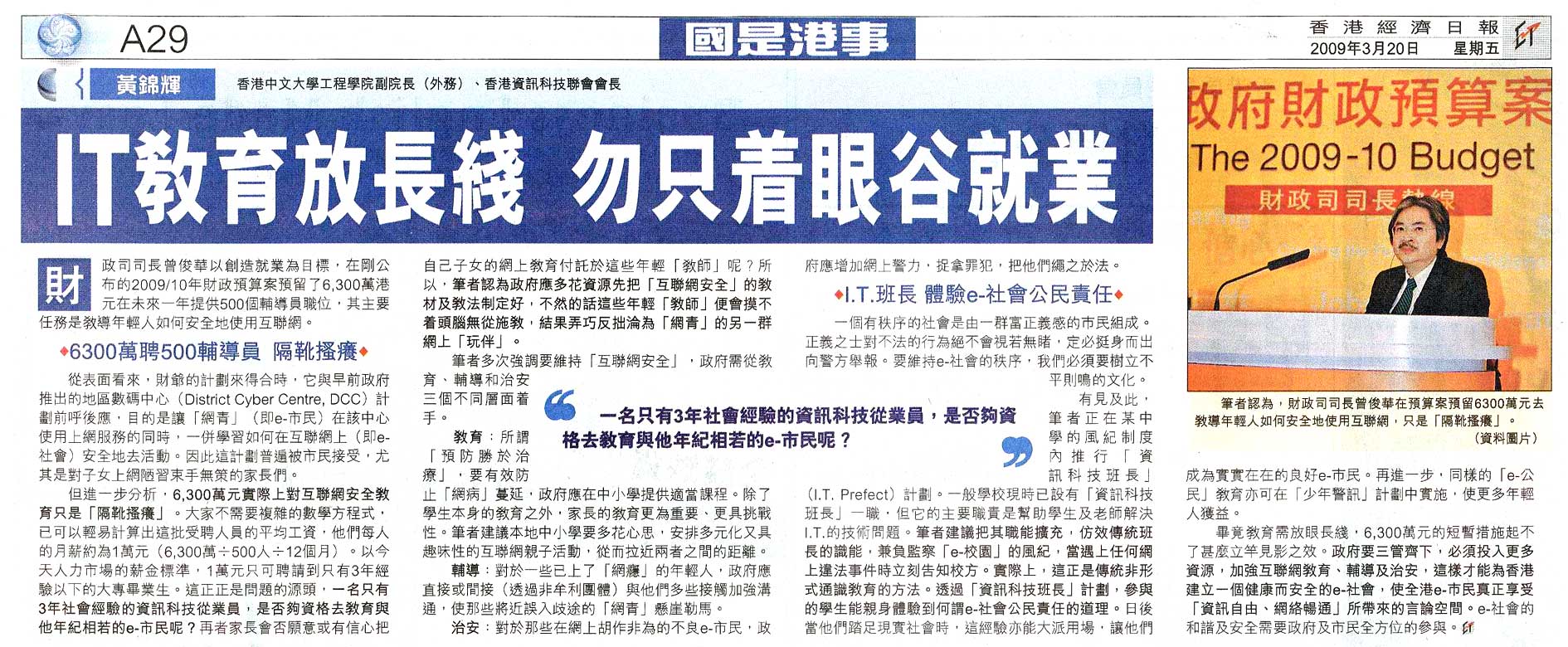 ---
Talk on e-社會的資訊頭腦 by Professor Wong Kam Fai, Our School Manager, to the parents on Saturday, 21-3-2009, at 3:00pm to 4:30pm at Lam Tai Fai College. (Lecture Theatre)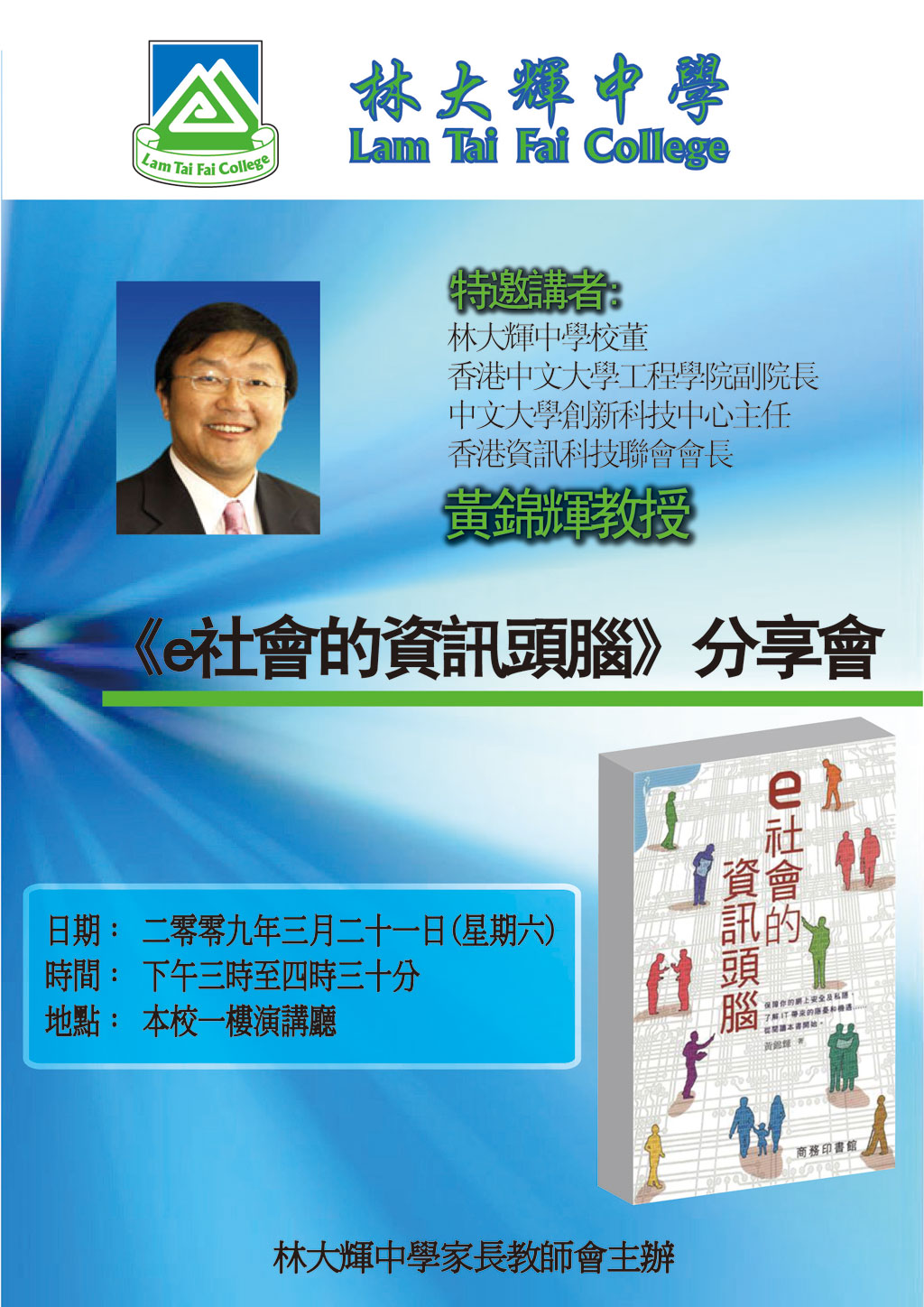 ---
An Autograph Session with our School Manager, Professor Wong Kam Fai for his newly published book [校董黃錦輝教授新書籤名會]
校董黃錦輝教授最新著作:黃錦輝 (2008)。《e 社會的資訊科技頭腦》。香港:商務印書館。
Though book exhibition is held annually in our Parents' Day, the exhibition held last Saturday, 14th February, 2009 has been a heartening and uplifting experience for our parents, teachers and students.. Parents and students made a beeline for it --- for we have the greatest honor of inviting our School Manager, Professor Wong Kam Fai, to have an Autograph Session with his readers, parents and students of LTFC for his newly published book 《e 社會的資訊科技頭腦》on the morning of this special Valentine's Day.
---
好書推介
推廣通識教育 啟發科普興趣 做個良好e市民
校董黃錦輝教授最新著作:黃錦輝 (2008)。《e 社會的資訊科技頭腦》。香港:商務印書館。
---
《做個良好e市民》講座
黃錦輝教授簡介
黃錦輝教授為林大輝中學校董,香港中文大學工程學院副院長、中文大學創新科技中心主任及香港資訊科技聯會會長。黃教授於香港中文大學創新科技中心專責工商業聯絡及技術轉移工作,透過中心,他成功創辦了香港第一間電子新聞資訊處理公司-慧科訊業有限公司。此外,他也關注數碼鴻溝,因此創辦縮小中國數碼鴻溝香港慈善基金,並為現任主席。
《做個良好e 市民》講座——網路世代新文化,資訊科技新里程 (2008年11月15日)
校監黃錦輝教授於2008年11月15日於尖沙咀商務印書館舉行一名為《做個良好e市民》之講座,並發表其新書《e社會的資訊頭腦》。鄧蕙珍副校長及本校六位資訊科技科及通識教育科老師於當日亦有出席是次講座。
黃教授指出,在資訊科技發達的年代中,尤其是Web 2.0的時代,青年人都懂得通過互聯網發表自己的創作,每個人都是網上的建構者。反觀較年長的一輩,對於網上世界的知識﹑技術運用等,通常都只是新手,因此,雖然在現實世界中年長一輩是社會的指導者,但在網上世界中卻如同「新移民」,角色較為被動。
然則在網上世界中,年長一輩可有何貢獻?黃教授以為,儘管「新移民」未必能夠熟練網上的技術,但仍然可以作為「原居民」的指導者。尤其是價值指引方面,無論是現實世界抑或網上世界,都需要有一套正面的價值觀,才能確保網上工具有正確的運用。對於人生閱歷不足的青年人,雖然熟練網上技術,但如何走向正確的方向,還需要指導者。
網路世代是新的年代,「新移民」與「原居民」之如何協調,相信是一套深奧的學問,因此需要新的思維。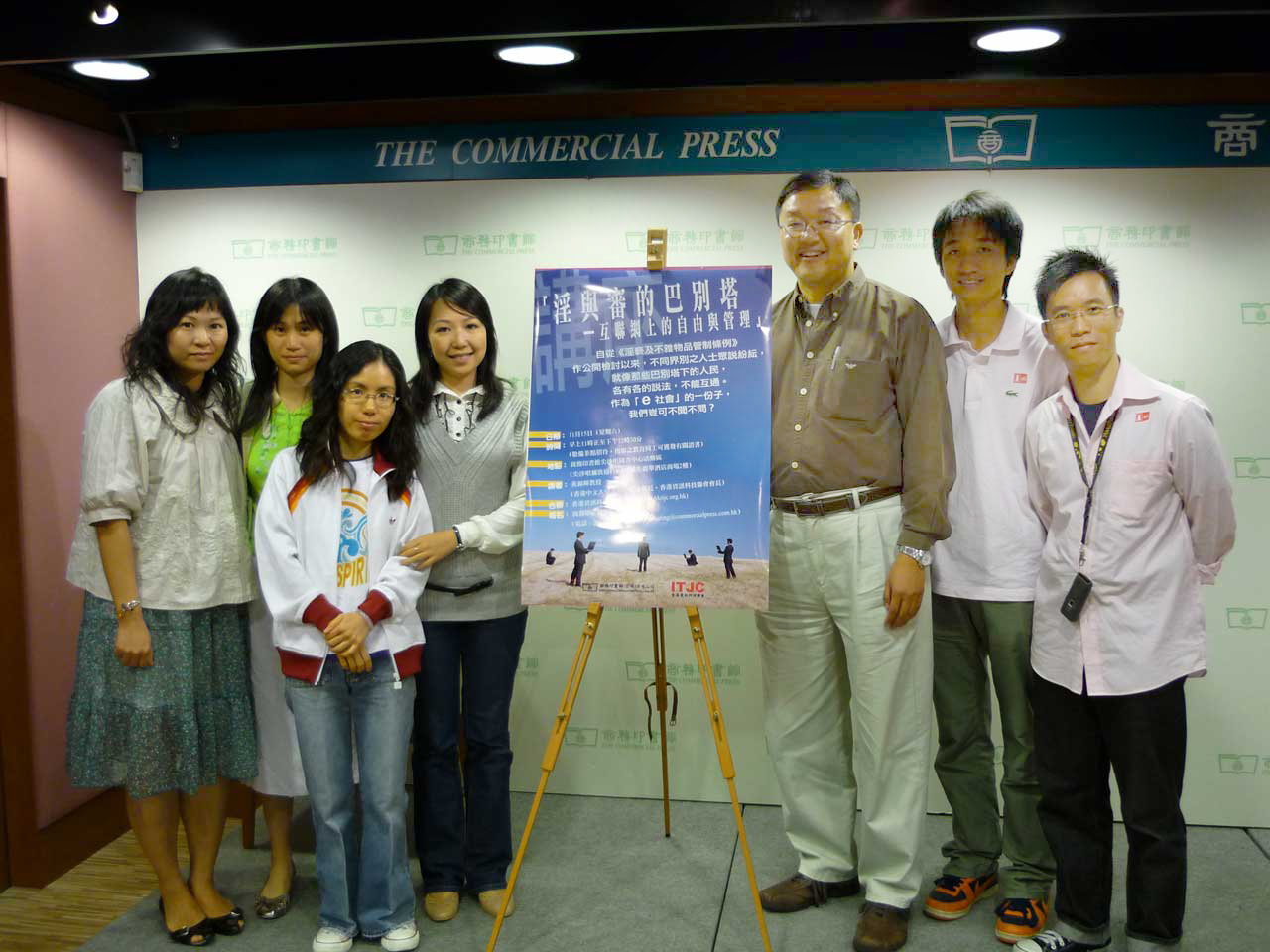 ---
"Control of Obscene and Indecent Articles Ordinance" (COIAO) Forum --- Professor Wong Kam Fai, our School Manager, addressed the Forum (January 12, 2009)
What are the moral standards best for Hong Kong?
How can we strike a balance between freedom of information flow and maintenance of moral standards?
What are the effects of obscene and indecent articles on our society?
How will obscene and indecent articles affect the children?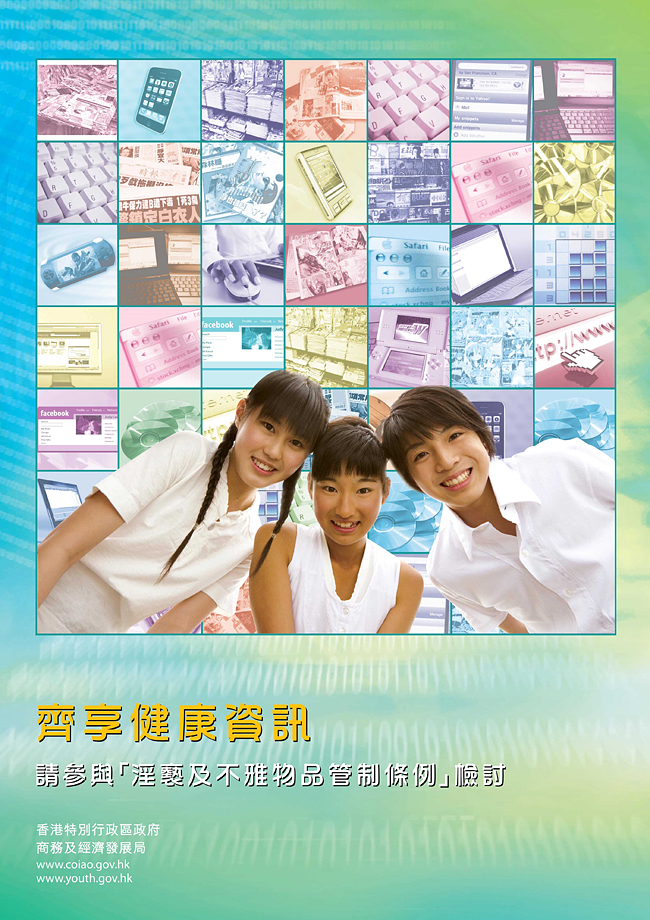 ---